Management Message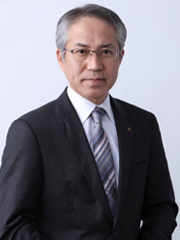 The environment surrounding IR activities has changed remarkably over the past few years, including revision of the Stewardship Code and Corporate Governance Code, and enforcement of the Fair Disclosure Rule. Establishing a disclosure policy as the foundation of constructive dialog with investors and identifying how to communicate one's corporate story based on management philosophy and business strategy to shareholders and investors as well as having dialog with them has become key challenges in IR activities. Particularly, amid the spread of ESG investment, there is an increasing demand for dialog through disclosures of non-financial information, including ESG information such as commitments to SDGs.
In this environment, Daiwa Investor Relations Co. Ltd. (Daiwa IR) has been providing high-quality IR services since its establishment in 1996. Clients include a wide range of companies, from those preparing for listing while in their start-up stage, to companies that are already listed and facing challenges and issues that need to be addressed.
Investor meetings to the members of "Daiwa IR Monitor Club," and "Daiwa IR Institutional Investor Club," our clubs for individual investors and institutional investors, are used as an opportunity for meaningful communication between investors and listed companies.
We were also quick to focus on websites as effective tools for IR activities, and we have evaluated IR websites on a continuous basis. We take maximum advantage of the know-how we have cultivated through these achievements to provide active support for website creation, and operation of IR sites, including the introduction of CMS (Content Management System).
When strengthening IR communication activities that build closer ties between corporations and investors, Daiwa IR draws on the full range of capabilities of the Daiwa Securities Group. Daiwa IR has structured a comprehensive support framework based on the expertise and know-how that the Group has developed over many years, and has earned the trust of its clients for developing the most appropriate and effective IR programs.
As an IR consulting firm that connects listed companies with investors, we will continue to strive to be a leading company in the new era of IR.
April 2020
Representative Director and President
Jun Suzuki